presents


J O S H N O E L

Barrel-Aged Stout and Selling Out:
Goose Island, Anheuser-Busch,
and How Craft Beer Became Big Business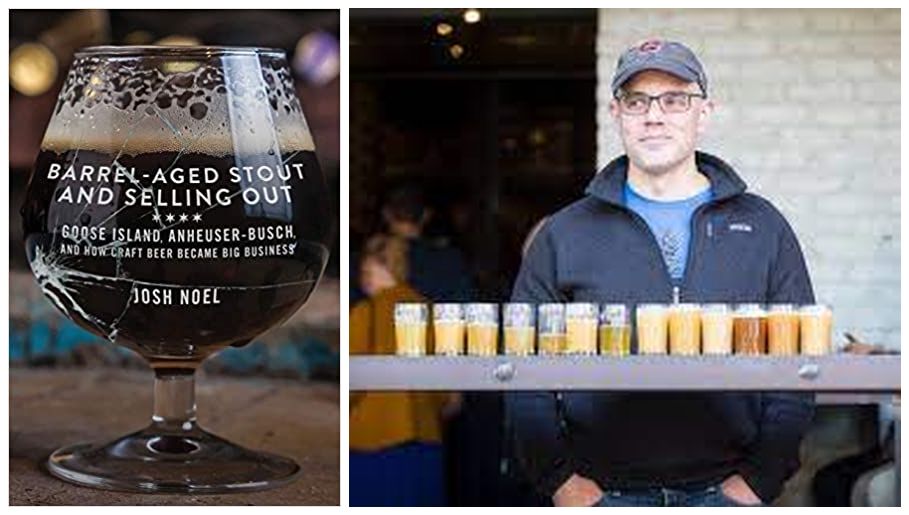 Josh Noel writes, "In 2012, I called John Hall, the founder of Goose Island Beer Co. I told him about an idea that had struck me one night, in the dark, as I tried to fall asleep. I nursed the idea for weeks — it might even have been months — unsure if I was ready to follow through on the spark. Now, I was, and I told John: the Goose Island story could make for a good book.

"Less than a year earlier, John had sold the company he founded in 1988 — when there were fewer than 200 breweries in the U.S. — to Anheuser-Busch InBev, the world's largest beer company. Goose Island was still finding its way as part of ABI. ABI was still finding its way as part of American craft beer.

"ABI found its way. After Goose Island, the global conglomerate spent the next six years scooping up nine more American craft breweries, executing an M&A strategy that upended the nation's craft beer landscape. As the first acquisition, Goose Island was the star, leading ABI's American craft portfolio both nationally and abroad.

"Goose Island wound up telling a story far broader than its own. It was the story of American craft beer, navigating growth, innovation, struggle and such wild success that it became the stuff of big business. Big Beer had no choice but to buy its way in — starting with Goose Island.

"After six years of research, interviews, false starts, ripped up drafts and chapters left on the cutting room floor, I'm thrilled to tell that story."



* * *



Josh Noel is a longtime Chicago Tribune journalist, covering the beer industry, travel and various news and feature subjects. He is author of 2018 book, "Barrel-Aged Stout and Selling Out: Goose Island, Anheuser-Busch, and How Craft Beer Became Big Business," winner of "Best Book" (2018) from the North American Guild of Beer Writers. Josh has a master's in journalism from Columbia University and a bachelor's in English from Loyola University

FREE and ONLINE
Tuesday, March 30, 2021
5:30-7:00 pm CDT

Sign in 5:00-5:30 pm for informal cigar and cocktail chatter.
The event will be called to order at 5:30.
There will be a Q&A session following the lecture. Audience participation is invited.
The event will conclude at 7 pm.
An optional cocktail party and discussion will continue after the event.
Be sure to have your cocktails and cigars at ready hand.



After you register for the event, look for Order Confirmation email from Eventbrite. Scroll to the bottom of the message for a link to the video conference, and other instructions. From the Order Confirmation email you can also save the event to your online calendar and later join the video conference from the link automatically provided in the calendar entry.

About the Cigar Society of Chicago
ONE OF THE OLDEST AND greatest traditions of the city clubs of Chicago is the discussion of intellectual, social, legal, artistic, historical, scientific, musical, theatrical, and philosophical issues in the company of educated, bright, and appropriately provocative individuals, all under the beneficent influence of substantial amounts of tobacco and spirits. The Cigar Society of Chicago embraces this tradition and extends it with its Informal Smokers, University Series lectures, and Cigar Society Dinners, in which cigars, and from time to time pipes and cigarettes, appear as an important component of our version of the classical symposium. To be included in the Cigar Society's mailing list, write to the secretary at curtis.tuckey@logicophilosophicus.org