presents
Three Dramatic Readings for Halloween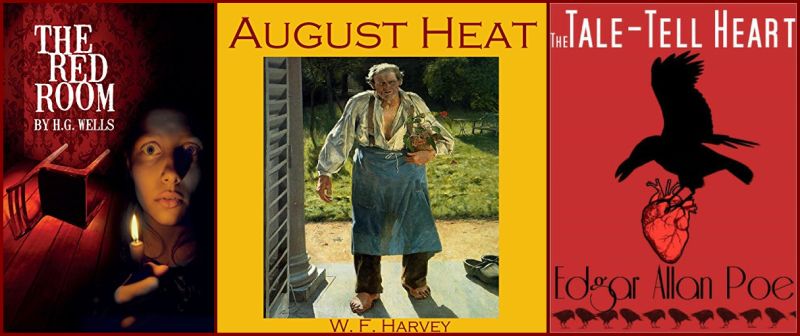 Cigar Society member, retired Loyola professor of English and Irish literature, and playwright Terry Boyle will host a series of Three Dramatic Reading for the Halloween Season.



| | |
| --- | --- |
| Terry Boyle will read H.G Wells's The Red Room. Terry writes books and plays, and most recently taught Irish and British Literature at Loyola and is now retired. His plays include: The Queen's Speech (2015), Nothing is Going to Stop this Train (2013), Downhill Backward (2012), Oh, What a Bloody Good Friday (2011), Hope (2009), Mourn those Angel Faces (2008), and Borderland (2008). Terry has a BA, MA, and DPhil from Ulster University in Coleraine, Northern Ireland. | |
| Larry DeBuhr will read W. F. Harvey's August Heat. Larry was vice president of education at the Chicago Botanic Garden and is now retired. Larry has a bachelor's degree in botany and zoology from Iowa State University in 1971. He earned both his master's and doctoral degrees in botany from Claremont Graduate School in California. | |
| Mark Fearnow will read Edgar Allan Poe's Tell Tale Heart. Mark is an actor, director, and writer. He retired from teaching and moved to the Palm Springs area after a career at Penn State University and Hanover College. Fearnow earned a Ph.D. in Theatre and Drama from Indiana University. | |
FREE and ONLINE
Tuesday, October 27, 2020
5:30-7:00 pm CDT

Sign in 5:00-5:30 pm for informal cigar and cocktail chatter.
The event will be called to order at 5:30.
There will be a Q&A session following the lecture. Audience participation is invited.
The event will conclude at 7 pm.
An optional cocktail party and discussion will continue after the event.
Be sure to have your cocktails and cigars at ready hand.



About the Cigar Society of Chicago
ONE OF THE OLDEST AND greatest traditions of the city clubs of Chicago is the discussion of intellectual, social, legal, artistic, historical, scientific, musical, theatrical, and philosophical issues in the company of educated, bright, and appropriately provocative individuals, all under the beneficent influence of substantial amounts of tobacco and spirits. The Cigar Society of Chicago embraces this tradition and extends it with its Informal Smokers, University Series lectures, and Cigar Society Dinners, in which cigars, and from time to time pipes and cigarettes, appear as an important component of our version of the classical symposium. To be included in the Cigar Society's mailing list, write to the secretary at curtis.tuckey@logicophilosophicus.org