presents
Bill Daley interviews Duane Scott Cerny


Cigar Society member and award-winning Chicago journalist Bill Daley will have a conversation with Duane Scott Cerny--Chicago poet, alternative music artist, and co-owner of the Broadway Antique Market (6130 N Broadway, Chicago)--about Duane's experiences in the vintage and resale business and how he came to write Selling Dead People's Things.

From the book jacket:
"Selling Dead People's Things is a wry, behind-the-curtain peek into the world of antiques and their obsessive owners—while still alive and after their passing. An amusing observer of the human condition, author Duane Scott Cerny entertains in illuminating, scary, sad, or frightfully funny resale tales and essays. Whether processing the estate of a hoarding beekeeper, disassembling the retro remains of an infamous haunted hospital, or conducting an impromptu appraisal during a shiva gone disturbingly wrong, every day is a twisted treasure hunt for this twenty-first-century antiques dealer. While digging deep into the basements, attics, and souls of the most interesting collectors imaginable, traveling from one odd house call to the curious next, resale predicaments will confound your every turn. Be careful where you step, watch what you touch, and gird your heart—Antiques Roadshow, this ain't!"

FREE and ONLINE
Tuesday, October 13, 2020
5:30-7:00 pm CDT

Sign in 5:00-5:30 pm for informal cigar and cocktail chatter.
The event will be called to order at 5:30.
There will be a Q&A session following the lecture. Audience participation is invited.
The event will conclude at 7 pm.
An optional cocktail party and discussion will continue after the event.
Be sure to have your cocktails and cigars at ready hand.



Editorial Reviews of the Book

"Selling Dead People's Things is a Canterbury Tales of flash, clash, and trash--a sociological slice of dealers and collectors, from highbrow to kitsch, from hoarders to refined collectors, a mix of everything in between, and how a dealer finds himself amongst it all. Pick it up and prepare not to be able to put it down."
--LEWIS TRIMBLE, Antiques Dealer, Lewis Trimble Decorative Arts

"Steering like a Ouija planchette, Selling Dead People's Things takes us across personal artifacts of lives passed on, rousing stories and spirits revealing often that life is the greater mystery than death."
--MICHAEL CARBONARO, Creator/Executive Producer of The Carbonaro Effect on TruTV

"A fast and fun jaunt... Serious yet witty and at times irreverent, Duane Scott Cerny shares unusual, weird, and wild stories of picking and selling, all true. The cover will either spook or intrigue you, but you are sure to be entertained and enlightened by the stories. This book will certainly appeal to a younger audience and to those with a sense of humor about life and the antiques business."
-- MAINE ANTIQUE DIGEST

"I've always believed that your home should feel layered, like it has been assembled over time. In my own home and in the interiors my firm and I design, there is not one single room that doesn't include vintage. I've shopped Duane's store for years and sourced some of my best vintage finds there. This book is a beautiful collection of all his years of experience and a twenty-five-year love affair with design."
--NATE BERKUS, Interior Designer and Author

"At turns hilarious and poignant, Duane Scott Cerny illuminates a world where one person's trash is another person's life . .."
--RICHARD WRIGHT, Auctioneer, Wright20.com

"I am like a hawk gazing over the surfaces of lost souls in search of the perfect find. On occasion, these choice selections are for my home, but more often they act as catalysts for my work. They instigate new ideas with their history and human stories. When worked into my art, the past becomes reborn and re-contextualized for contemporary contemplation. Selling Dead People's Things shares these and so many other objects' journeys, illustrating how everything we are and everything we touch can be an influencer."
--NICK CAVE, Artist

"Duane Scott Cerny's writing brings the dead back to life and tells the "E! True Hollywood" tales behind the stuff we buy at estate sales and antiques markets. The designers, collectors, and dealers who purchase these pieces would hold these treasures ever more dearly if they only knew their backstories. This is a heartwarming, heartbreaking, and HILARIOUS narrative about the way dead people's things, and their owners, really lived. As an avid reader drawn toward in-depth New Yorker pieces and fascinating historical and nonfiction books, I could not put this one down!"
--SALLY SCHWARTZ, Show Promoter, Randolph Street Market, Chicago

"This is a hugely charming book about collecting and learning where and who things come from. It's rich with stories about the places and people connected to things. It's all about what is perfectly odd and sometimes romantic and joyful. Duane's book is a nonstop wonder-trip of hunting and gathering. And even better, of the ever-so-challenging and story-filled life of having a shop that sells these objects. It's a love letter of looking and finding and so many characters worth knowing."
--THOMAS O'BRIEN, Interior Designer, Aero Studios

"Ever wondered what lies within the hoarder house? Why people end up with twelve cats? Why some get obsessed with vintage artificial limbs and others with Jadite mixing bowls or railroad timetables? The answers are here--some of them, at least. (As for the rest, as Duane puts it, 'What happens in your personal Las Vegas stays in your personal Las Vegas.') More than a guide to the business of vintage, Selling Dead People's Things is also a hilarious, poignant set of stories revealed by the oddest of objects and assembled by a skillful, tenderhearted Sherlock.
--ASHTON APPLEWHITE, Author/Activist, This Chair Rocks: A Manifesto Against Ageism

"Duane has written a book filled with personality. Best of all are the characters he's encountered while becoming a master of vintage. One funny guy, he uses humor to bring us into his wild process of becoming an adult in love with ... dead people's things"
--LESLIE HINDMAN, President/CEO, Leslie Hindman Auctioneers

"Basement full, attic full, houseful--Ever think about all the stuff left behind? Whether the world of vintage is new to you or you're a seasoned antique dealer, Selling Dead People's Thingsis a riveting vintage adventure. But it's not only about the stuff. It's about the people who left it behind and those who give it a second life. Everyone in the business has a story, but Duane has hundreds. I laughed,I gasped, I held my breath--be ready for anything!"
--MELISSA SANDS, Dealer/Promoter, Vintage Garage Chicago

"Selling Dead People's Things is a wild romp through the esoteric world of resale furniture and memorabilia dealers and obsessive hunters and gatherers, told by a vintage veteran who learned the biz from musty mid-century basement up to lakefront penthouse. Cerny makes house calls, and his journeys are tearjerking, haunting, celeb-studded, and frequently fetid. The entertaining adventures, life lessons, andcollector tips are relayed with humor and compassion and the underlying messagethat objects have lives that live on well after we do."
--BRADLEY LINCOLN, Lifestyle Author, Editor, and Design Enthusiast

"Not your grandmother's take on vintage, Cerny's lively text and take on the characters, collectors, and dealers he's encountered takes the reader along on his rollicking voyage to becoming a premier dealer in all things vintage. More memoir than how-to, his anecdotes will have you laughing and sometimes rueful--and always entertained!"
--DANIELLE ARNET, The Smart Collector, Tribune Content Agency

"Others may walk into old homes and buildings, but Duane walks into their stories. Here he finds personalities, history, charm, sadness, humor, and more than just dead people's things. I laughed out loud as I met so many outrageous characters. It makes one want to visit the marvelous city of Chicago, see the origins of these stories, shop his wonderful store, lean across the counter, shake his hand, and--most of all--buy this book!"
--GORDON HUGHES, Producer, An American in Paris, Come From Away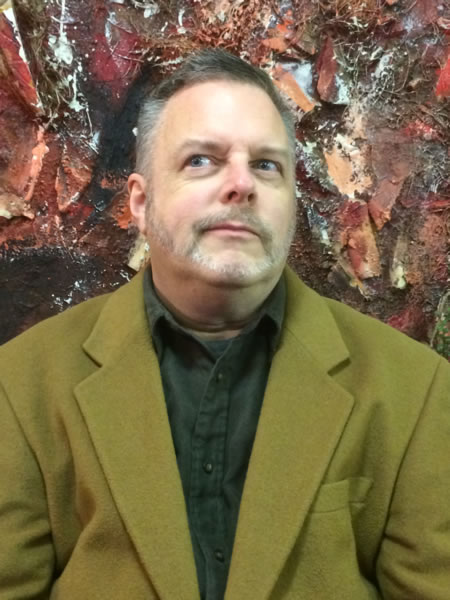 Danny Cerny writes:


Awarded a poetry scholarship by Gwendolyn Brooks, the Poet Laureate of Illinois, I graduated from Northeastern University into the economic downturn of 1980's unemployment. For a few years I stumbled from one (soon-to-be-going-out-of-business) employer to the next, then decided to try to fail in my own self-employment. I founded a legal word processing firm, On Disc, Inc., and it was a small but surprising success.

Parallel to this company, I partnered with my musical muse, David Bell, creating Persona Records, one of earliest house music labels in the U.S., producing legendary DJ Frankie Knuckles's first vinyl releases and licensing music via my own band, Danny Alias. To this day, Danny Alias is on multiple music labels throughout the world, with releases in Canada, the United Kingdom, France, Germany, and other fandoms of obscurity. My mid 80's underground hit "Civil Defense: The War Dance" has never gone out of print in it's 30+ year history. So, yes, I am LITERALLY a collectible and have resale value!

But back to yesteryear: In 1988 I met Jeffrey Nelson and together we set off on an antique odyssey. From 1990 to 1998, we operated The Wrigleyville Antique Mall (WAM), one of the first modern multi-dealer vintage stores in Chicago. After tens of thousands of sales, countless fails, and the revelation of too many startling stories to tell in a single night of vintage debauchery, "Selling Dead People's Things" documents a slice of those early years of vintage retailing.

Today, Jeff and I own The Broadway Antique Market, home to 75 top dealers. It's Chicago's largest multi-dealer shopping destination and every bit the vintage department store we had hoped it could become. For collectors of mid century design, BAM is a mini modern Mecca; for others, it's a fun place to idle away an afternoon, people watch, and/or try not to buy something.

As for me: I'm older, not much wiser, creakier, and crankier. Oh, and my feet hurt. Thanks for asking. But yes, I'd still like to sell you a vintage chair. I'll sit later.

About the Cigar Society of Chicago
ONE OF THE OLDEST AND greatest traditions of the city clubs of Chicago is the discussion of intellectual, social, legal, artistic, historical, scientific, musical, theatrical, and philosophical issues in the company of educated, bright, and appropriately provocative individuals, all under the beneficent influence of substantial amounts of tobacco and spirits. The Cigar Society of Chicago embraces this tradition and extends it with its Informal Smokers, University Series lectures, and Cigar Society Dinners, in which cigars, and from time to time pipes and cigarettes, appear as an important component of our version of the classical symposium. To be included in the Cigar Society's mailing list, write to the secretary at curtis.tuckey@logicophilosophicus.org