presents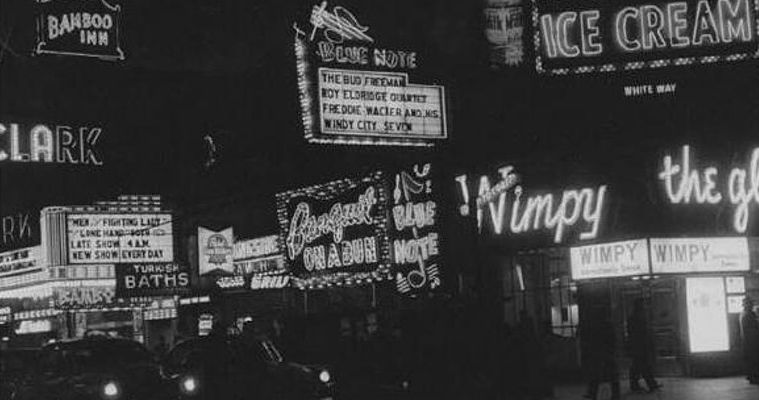 Adam Selzer—Chicago author, historian, tour guide, ghost chaser, and raconteur—has recently added virtual-tour guide to his many occupations. And in this new medium of virtual tours, he has concluded that, unlike during his physical tours, the places that he and his tourists visit need not be bound by space or time.

In this Time-Travel Pub Crawl through Bars from Chicago History, Adam may take us to such long-lost bars as The Wind Blew Inn (where teenage flapper Lillian Collier shocked people so much with her "snuggle-pupping" parties that they barely noticed that she was serving illegal booze), the Sauganash Hotel (the log cabin where its pioneer owner "kept the tavern like hell and played the fiddle like the devil"), the Everleigh Club (the house of ill repute with the best reputation)... or maybe Colosimo's, Capone's Four Deuces, Maury's Beatnik Book Store, the Clark Theater, the Improv, the Earl of Old Town Folk Club, Big Jim O'Leary's, or wherever else he can think of. Adam will provide historical background, commentary, and a slide show.

To prepare for some of the stops, you may want to have materials on hand for one or more of the following cocktails.



Menu of Cocktails in their Time and Place


Graveyard Grog
2 oz dark rum
2 oz hot water (or ginger beer)
0.5 oz simple syrup
o.5 oz lime juice
two dashes Angostura bitters

The Algonquin

1.5 oz rye
0.75 oz pineapple juice
0.5 oz dry vermouth

Very Far Southside
2 oz whiskey
1 oz simple syrup
1 oz lime juice
0.5 oz yellow chartreuse (optional)
dash of Angostura bitters

FREE and ONLINE
Tuesday, June 30, 2020
5:30-7:00 pm CDT

Sign in 5:00-5:30 pm for informal cigar and cocktail chatter.
The event will be called to order at 5:30.
There will be a Q&A session following the lecture. Audience participation is invited.
The event will conclude at 7 pm.
An optional cocktail party and discussion will continue after the event.
Be sure to have your cocktails and cigars at ready hand.




Adam Selzer's first novel was How To Get Suspended and Influence People, a 2007 Random House novel that was included on the Chicago Public Schools 2007 Summer Reading List. It was also nominated for a Cybils 2007 Young Adult Fiction award, and, in 2009, made national news after attempts were made to have it removed from an Idaho library; it was included in the American Library Association's Banned Books Week packet in 2010. In 2013, his 2011 novel Sparks (published under the name "SJ Adams") was named a Stonewall Honor book, as well as being placed on the ALA's "Rainbow List." His Smart Aleck's Guide to American History (Random House 2009) was nominated for a YALSA award for nonfiction by the American Library Association in 2011 and his novel for younger readers, I Put a Spell On You: From the Files of Chrissie Woodward, Spelling Bee Detective (which was based on Watergate) was nominated for a Great Lakes Book Award and short-listed for an Edgar award nomination. It became a notable choice for classroom reading. A 2009 short film he co-wrote, "At Last, Okemah!", won awards at several festivals.

In 2009, Adam's editor at Random House asked him to write a book based on "I Thought She Was a Goth," a song he had written a decade earlier. The resulting book, I Kissed a Zombie and I Liked It was released in January 2010. to acclaim from trade reviewers, who described it as "smart," "original," "hilarious," and "a scathing parody [of the paranormal romance genre]." Film rights were optioned by Disney Channel Original Movies. A follow-up (to both that book and I Put a Spell On You) entitled Extraordinary was released by Delacorte in 2011, the same day as he published Sparks with Flux under the name SJ Adams.

In addition to his book work, Adam works as a historian, tour guide and ghost investigator in Chicago. In 2009, his first adult nonfiction title with a major publisher, Your Neighborhood Gives Me the Creeps, told stories of his life and work as a ghost tour guide and as a skeptic in the ghost-hunting field.

In 2017, Skyhorse Publishing released Adam's comprehensive biography of Chicago multi-murderer H. H. Holmes.


About the Cigar Society of Chicago
ONE OF THE OLDEST AND greatest traditions of the city clubs of Chicago is the discussion of intellectual, social, legal, artistic, historical, scientific, musical, theatrical, and philosophical issues in the company of educated, bright, and appropriately provocative individuals, all under the beneficent influence of substantial amounts of tobacco and spirits. The Cigar Society of Chicago embraces this tradition and extends it with its Informal Smokers, University Series lectures, and Cigar Society Dinners, in which cigars, and from time to time pipes and cigarettes, appear as an important component of our version of the classical symposium. To be included in the Cigar Society's mailing list, write to the secretary at curtis.tuckey@logicophilosophicus.org