presents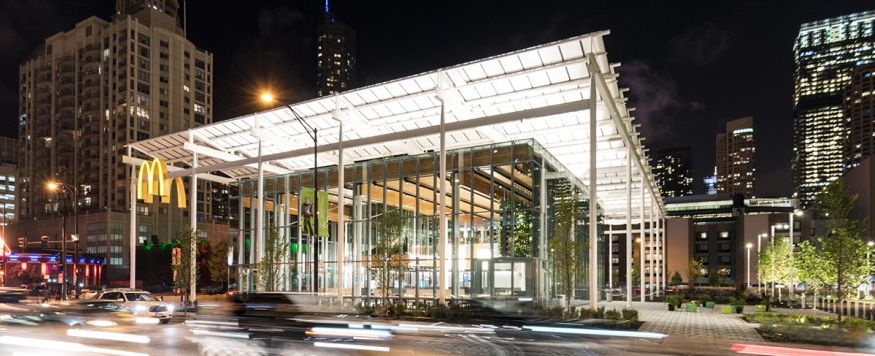 The new McDonald's flagship restaurant in Chicago.

FREE and ONLINE
Tuesday, May 12, 2020, 5:30-7:00 pm CDT

There will be a Q&A session after the lecture. Audience participation is invited.
Be sure to have your cocktails and cigars at ready hand.




The new McDonald's in Disney World, under construction.

Chicago architect Carol Ross Barney, FAIA, will join the Cigar Society to talk about the two McDonald's flagship restaurants that her firm has designed recently. The new McDonald's in Chicago, replacing the Rock and Roll McDonald's, is designed to achieve LEED Platinum certification (the highest level in the Leadership in Energy and Environmental Design rating system, as managed by the U.S. Green Building Council) and the new flagship restaurant at Disney World, which is designed to meet net-zero energy consumption. The discussion will highlight the push by McDonald's to design these two restaurants to be architecturally exciting while making a bold statement about their commitment to sustainability. Ms. Ross Barney is the founder and Design Principal of Ross Barney Architects. She writes,

The new Chicago Flagship celebrates the pure simplicity and enduring authenticity of McDonald's, welcoming both residents and visitors to a playful and informal gathering place in the heart of the city.

The site is a full city block, just steps off Michigan Avenue, occupied since 1985 by the iconic "Rock 'n Roll" McDonald's that emphasized drive through services. The new design re-balances car-pedestrian traffic creating a city oasis where people can eat, drink and meet. Landscape area increase 72% with 43% of the site being open and pedestrian focused, producing a new park-like amenity for a dense area of the city.

The dining room features a garden planted with ferns and white birch trees floating above a digital ordering "street". From this vantage point guests can experience the landscape beyond and above. Over shared tables with wireless charging and outlets, "tapestries" of living plants improve indoor air quality and provide a backdrop of green gradients. What might surprise many can be found on the adjacent kitchen roof: a row of harvestable apple trees can be seen through a clerestory window, telling a story about the future of urban farming and the utilization of often underused space.

McDonald's corporate commitment to "make sustainability the new normal" is at the core of the new restaurant design. The structural system, Cross Laminated Timber (CLT), will be the first commercial use in Chicago and has a lighter environmental footprint than concrete and steel. The solar pergola will capture the sun's energy, supplying part of the buildings consumption needs. Throughout the site, permeable paving is used to reduce storm water runoff and the heat island effect. The building is designed to achieve LEED certification.



Carol Ross Barney, FAIA, has been in the vanguard of civic-space design since founding Ross Barney Architects in 1981. With a career that spans over 40 years, Carol has made significant contributions to the built environment, the profession, and architectural education. As an architect, urbanist, mentor, and educator, she has relentlessly advocated that excellent design is a right, not a privilege. Her body of work occupies a unique place within the panorama of contemporary architecture, being exclusively composed of work in the public realm.

Carol's projects vary in type and scale, but uphold a deep commitment to the role architecture plays in life quality. This has manifest itself in design of spaces that enrich the metropolitan experience; to buildings that are environmental stewards, showcasing sustainability in an overtly compelling way; to spaces that inspire young children and the brightest minds of tomorrow to learn, invent, and break boundaries.

Carol's work has been honored with over 100 major design awards, including six national American Institute of Architects Institute Honor Awards, over 40 AIA Chicago Awards, two AIA Committee on the Environment (COTE) Top Ten Project Awards, and the AIA Chicago Lifetime Achievement Award, the AIA Thomas Jefferson Award for Public Architecture and the AIA Illinois Gold Medal, all for a distinguished body of work. She was named as a "Game-changer" by Metropolis magazine in 2018.

For nearly two decades, Carol's studio has been working along Chicago's Rivers. These efforts include the design of the Chicago Riverwalk and studies on one hundred fifty miles of riverfront across the city. The goal: reconnect people with the dynamic and changing life of the City's natural resources.

Other Notable projects include the McDonald's Chicago Flagship Restaurant, CTA Cermak- McCormick Place and CTA Morgan Street Stations, Jewish Reconstructionist Congregation Synagogue, James I Swenson Civil Engineering Building, Oklahoma City Federal Building, Bloomingdale / 606 Trail Master Plan, Multi Modal Terminal at O'Hare International Airport and design of schools for Chicago and communities across the country.

About the Cigar Society of Chicago
ONE OF THE OLDEST AND greatest traditions of the city clubs of Chicago is the discussion of intellectual, social, legal, artistic, historical, scientific, musical, theatrical, and philosophical issues in the company of educated, bright, and appropriately provocative individuals, all under the beneficent influence of substantial amounts of tobacco and spirits. The Cigar Society of Chicago embraces this tradition and extends it with its Informal Smokers, University Series lectures, and Cigar Society Dinners, in which cigars, and from time to time pipes and cigarettes, appear as an important component of our version of the classical symposium. To be included in the Cigar Society's mailing list, write to the secretary at curtis.tuckey@logicophilosophicus.org