THE FIRST PLANNED COMMUNITY IN THE UNITED STATES is here in the Chicago area, in Riverside, Illinois. It was designed in 1869 and has been on the National Register of Historic places since 1970.
By the time Calvert Vaux and Frederick Law Olmsted won the commission to design Riverside, in 1869, they had already designed New York's Central Park eleven years earlier, and had designed and overseen the development of many prominent parks during the decade or so in between. Vaux had chosen Olmsted for the Central Park project--even though Olmsted had had no previous practical experience in designing or implementing a landscaping project of any kind--because Olmsted was a well-known journalist, social critic, and public intellectual, and because Vaux thought he would also be able to make use of Olmsted's excellent political contacts in New York City. Vaux's original decision may have been born of practical business matters, but, in addition to greasing the wheels and explaining to the public the philosophy behind America's first public city park, Olmsted turned out to be a powerhouse in landscape architecture, so much so that Vaux's name is little remembered by comparison. But Vaux, with his choice of the younger Olmsted as his business partner, helped drive enormous changes in the impetus and direction of landscape and urban design in America.
Riverside (as you can see in the street plan below) has a very organic layout. It is known for streets that wind around the natural contours of the hills and vales of the land and the meandering path of the Des Plaines River. Green spaces abound. Nestled within and around these natural spaces are houses and estates brilliantly designed for their surroundings by residential architects who were eager to work in this milieu, among them: Frank Lloyd Wright, Daniel Burnham, Louis Sullivan, William Le Baron Jenney, Frederick Clarke Withers, and Calvert Vaux. Referring to Olmsted, Burnham said, "An artist, he paints with lakes and wooded slopes; with lawns and banks and forest covered hills; with mountain sides and ocean views."
Rob Wetherald, Chicago architect and long-time Cigar Society member, will talk about Olmsted's architectural philosophy, his design of the Village of Riverside, the contributions of various prominent Chicago architects in the form of estates and public buildings in the village, and discuss the influence that the planned community of Riverside has had on a century and a half of American urban planning.
Robert F. Wetherald
is a licensed architect and is Senior Director of North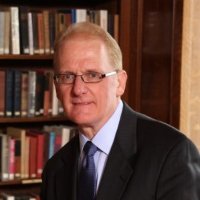 American Facilities at Oracle Corporation. He previously held global real estate positions with Deutsche Bank and Zurich Investments.
For ten years, Rob sat on the board of the Frank Lloyd Wright Trust, and he is very proud that during his time as chairman, the trust acquired and restored Frank Lloyd Wright's
Robie House
, on the campus of the University of Chicago. As chairman emeritus, Rob continues his work as a member of the strategic planning committee.
Rob is proud to have been the youngest-ever Eagle Scout in the State of Illinois. An enthusiastic traveller, Rob and his wife, Laura, love studying the great cities and cultures of the world.