---
---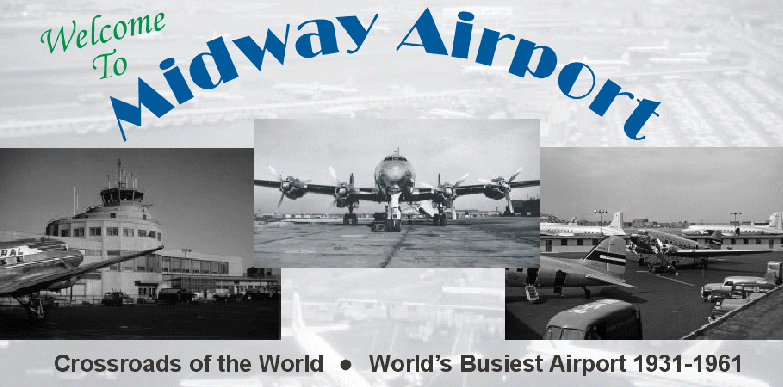 When Flying was Glamorous in Chicago

CHRISTOPHER LYNCH

The Lounge at Iwan Ries --- Tuesday, April 26, 5:30-8:30pm

Cocktails at 5:30, with the presentation at 6:00 for about thirty minutes,
followed by Q&A and general cocktail conversation.

From 1931 to 1961, Chicago's Midway Airport was the busiest airport in the world. Aircraft flight ranges were limited, forcing planes to land at a convenient half-way point while flying cross-country, and sightings of actors such as John Wayne, James Stewart, and Marilyn Monroe in the terminal at Midway Airport were a fairly common occurrence.
A trove of recently discovered negatives by a staff photographer at both Midway and O'Hare Airports from the 1920s through the sixties show some of what the glamor of flying used to be. Chicago airport historian Christopher Lynch describes the photographer, Mike Rotunno, this way:
Al Capone dove for the floor when he saw the flash of the camera, while his startled body guards drew their guns. The actress Miriam Hopkins ran screaming from the camera while Lyndon Johnson ran towards it. General Jimmy Doolittle called him a son of a bitch, while the Pope called him a friend. Bob Hope asked if he would escort Hope's wife to church, and John Barrymore asked if he would hide him from his mistress. Cary Grant demanded a shoe shine, Eleanor Roosevelt demanded an apology, and Harry Truman demanded a bourbon. Who was this guy? He was Mike Rotunno, and he was a photographer for one of Chicago's newspapers.

Christopher Lynch has spent most of his life around Midway Airport, where his family ran Monarch Air Service, a fixed based operator that serviced aircraft, for over six decades. He has a B.A. in History and Religious Studies from Lawrence University, and maintains a private pilotís license. He is the author of four books:
Chicago's Midway Airport
(2002),
The History of Chicago's O'Hare Airport
(2011),
When Hollywood Landed in Chicago's Midway Airport
(2012), and, most recently,
Now Arriving: Traveling To And From Chicago By Air
(2015).
Chris will be bringing some copies of his latest book, talk about how he came to write it, show some rare slides, and tell stories about the days
when flying was glamorous in Chicago
.
About the Cigar Society of Chicago
ONE OF THE OLDEST AND greatest traditions of the city clubs of Chicago is the discussion of intellectual, social, legal, artistic, historical, scientific, musical, theatrical, and philosophical issues in the company of educated, bright, and appropriately provocative individuals, all under the beneficent influence of substantial amounts of tobacco and spirits. The Cigar Society of Chicago embraces this tradition and extends it with its Informal Smokers, University Series lectures, and Cigar Society Dinners, in which cigars, and from time to time pipes and cigarettes, appear as an important component of our version of the classical symposium. To be included in the Cigar Society's mailing list, write to the secretary at curtis.tuckey@logicophilosophicus.org