Fr Marius Zerafa, the Maltese Dominican friar who masterminded the rescue of a stolen Caravaggio, will join the Cigar Society for a special presentation of his fascinating story next Tuesday night.

While Fr Zerafa was Director of Museums in Malta, thieves stole a painting of St Jerome from the co-Cathedral of St John in Valletta (capital of Malta) on New Year's Eve 1984. For two years after the heist, nothing more was heard about the picture. It had simply vanished. Then one day Fr Marius was approached by a young man who handed him a tape and a Polaroid picture of the painting of St Jerome, and asked for a ransom of half a million lira. Then, in the art thief's equivalent of chopping off a hostage's fingers, the gang started sending Fr Marius little pieces of the precious painting. (He will have these fragments with him on Tuesday.) The story ends with police cars and helicopters, and a thwarted kidnapping attempt on Fr Zerafa himself.

(The early history of the painting, "St Jerome Writing", has the makings of a thriller as well. Caravaggio spent fifteen months on the island of Malta while on the lam from a murder charge in Rome, and while there he painted "St Jerome Writing", "The Beheading of St John the Baptist", and five other important paintings. He was inducted into the Knights of Malta until another quarrel resulted in a serious injury to a senior knight. He was imprisoned, made a daring escape, and fled to Sicily. Later, an assassination attempt was made on his life in Naples, resulting in facial disfigurement, and he died, perhaps of lead poisoning, while on his way to Rome from Naples for a pardon.)

Come hear Fr Zerafa tell his fascinating story to the Cigar Society.

This presentation is made possible by the generosity of the John David Mooney Foundation of Chicago.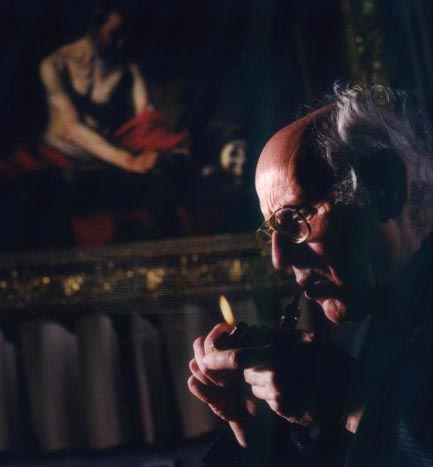 Fr. Marius J. Zerafa O.P., S.Th.L & Lic., Dr.Sc.Soc., B.A. Hons. (Lond), A.R.Hist.Soc. (Lond). born in Vittoriosa, Malta, 13th October 1929, son of Joseph Zerafa M.B.E and Maria (nee Boffa), nephew of Sir Paul Boffa Kt., O.B.E., M.D., Prime Minister of Malta.

Started education at the Government Primary School till Class III, when, at the age of 9, he entered the Malta Lyceum. With the encouragement of Dun Gorg Preca he joined the Dominican Order in 1945 at the age of fifteen. He spent three years at the Dominican House of Studies in Rabat and was then sent to "Hawkesyard", Staffordshire, and later to "Blackfriars", Oxford (1948-1952). Went to Rome (1952-54) where he obtained his S.Th.B. and Dip.Sc.Soc. He returned to Rome for another two years and obtained his Lectorate and Licentiate in Sacred Theology and a Doctorate in Social Sciences. He also attended the State University in Rome and obtained a Diploma in Art History. Later he also obtained a B.A. Hons. Degree in Art History from the University of London.

He also followed courses at the Sorbonne and at the Ecole de Louvre, Paris, (1963 and 1966); at the University of Florence (1965 and 1968); at the Brera, Milan, and at the Fondazione Cini, Venice, (1965). Working on a thesis for the Degree of D.Litt. at Florence University.

In 1962, he was elected Associate of the Royal Historical Society, London. He is a member of the Accademia Tiberina and was awarded the French Decoration "Chevalier dans l`Ordre des Arts et des Lettres", the Russian "Order of Lomonosov" and "Insignia of Merit", and the Florence "Beato Angelico" Medal.

He is also Knight of Grace, O.S.J. Fr Zerafa was awarded Art Scholarships by the Italian Government on the occasion of Malta's Independence and again in 1968. He visited museums in the United States on an International Visitors Program; worked at the Louvre, Paris, on a Council of Europe Fellowship; had a British Council Grant in 1967 and a German Government Bursary sponsored by Inter Nationes. He was also invited to the Soviet Union as Co-Founder of the Maltese-Soviet Friendship Society.

Fr Zerafa was Secretary and Senior History and Literature Master at St Albert`s College, Valletta, (1954-62); Professor of Social Philosophy and Sacred Art at the Dominican House of Studies, Rabat; Lecturer in Fr. Marius Zerafa O.P. Sociology in the Pastoral Course for the Clergy; Examiner in Sociology at the University of Malta; Lecturer in History and Appreciation of Art at the Malta School of Art; Lecturer in Sacred Art at the Major Seminary; at I.N.S.E.R.M.; Lecturer in Art Appreciation at St Edward`s College; taught English Literature and Art History at St Teresa monastery, Cospicua.

He also lectured regularly, mainly on Art, at the British Council Centre, the Italian Istituto di Cultura, the Alliance Francaise and other cultural centres. For many years he was sub-editor of "Scientia" and Archivist of the Maltese Dominican Province.

While studying in Florence, he was encouraged by Prof G LaPira, ex mayor of the City, to set up an Art Centre at S Marco, but had to return to Malta for family reasons. Fr Zerafa joined the Museums Department in 1970 as Assistant Curator of Fine Arts and was responsible for the setting up of the National Museum of Fine Arts, Valletta and the Museum of Contemporary Art at St Julian`s. He became Curator of Fine Arts in 1975 and Director of Museums in 1981. He was responsible for the opening of a number of museums in Malta and Gozo. During this period he was involved in the recovery of the painting "St Jerome" by Caravaggio. His tactful contact with the thieves, over a period of eight months resulted in the successful recovering of this masterpiece.

Fr Zerafa has been invited to lecture at the Smithsonian, Washington; at Fordham University, New York; at the American University, Rome; at the Dominican Curia Generalizia, Rome; at Aspen Museum, Colorado; at the Moscow State University; at the Academy for Contemporary Art, Moscow; at the Academy for Design, Togliattigrad; at the Preti Museum, Taverna; at Budapest Museum, as well as other educational institutions.

He has taken part in International conferences in Quebec, Tunis and other cities and has helped organize numerous art exhibitions in London, Paris, Moscow and Palermo.

He was Chairman of Government committees and of other committees of various organizations. Until his resignation was Chairman of the Archdiocesan Commission for Sacred Art. He is a member of the Dominican Commission for Preaching through Art.

Fr Zerafa retired from the Museums Department at the age of 61. He is now lecturer in Sacred Art at the Angelicum University, Rome. He is also "Aquinas Visiting Scholar" at Toronto University, Canada. He lectures at Cultural centres in Malta, and often leads groups of students on cultural tours abroad.

He has restored works by Mattia Preti, Favray, and other Masters. His own paintings and sculptures are to be found in churches and collections in Malta and abroad.