---
---

JOIN THE CIGAR SOCIETY AT THE END OF OUR INDOOR SEASON FOR


Cigars Cocktails Conversation & Jazz



A SMOKE-FILLED COCKTAIL PARTY TO THE AMBIENT SOUNDS OF THE
CHICAGO JAZZ QUARTET


TOTEM


Tuesday, May 13, 5:30-8:30pm


The Lounge at Iwan Ries, 19 South Wabash





There will be no formal program this week: just cigars, cocktails, conversation, and jazz.


$50 helps to pay for unlimited drinks, two cigars, food from Italian Village, and the entertainment.
Reservations are required.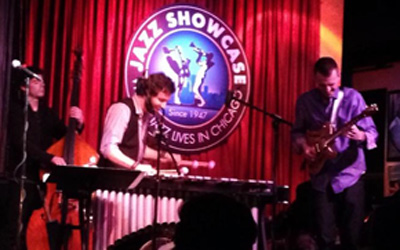 Anthony Jay Houston (vibraphone) completed his master's in percussion performance this year at the Chicago College of Performing Arts, under Ed Harrison. He has a bachelor's in music education (2010) from the University of Dayton, where he studied with Jim Leslie. In addition to performing with Totem, he plays steelpan drum with the Potts & Pans Steelband. (see
AJHvibes.com

)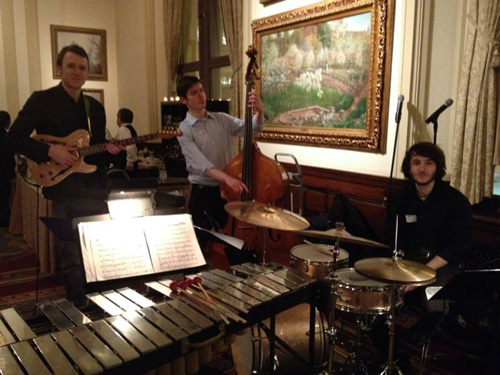 Aaron Day (guitar) is studying jazz at the Chicago College of Performing Arts under Neal Alger. He performs throughout the city with ensembles of various styles of jazz, including Brazilian, straight-ahead, and contemporary, as well as other rock, R&B, and fusion groups.

Aaron Zachary (bass) and Mitch Settecase (drums), both Roosevelt University students, are pictured above at the Union League Club for a performance earlier this year.
---
About the Cigar Society of Chicago
ONE OF THE OLDEST AND greatest traditions of the city clubs of Chicago is the discussion of intellectual, social, legal, artistic, historical, scientific, musical, theatrical, and philosophical issues in the company of educated, bright, and appropriately provocative individuals, all under the beneficent influence of substantial amounts of tobacco and spirits. The Cigar Society of Chicago embraces this tradition and extends it with its Informal Smokers, University Series lectures, and Cigar Society Dinners, in which cigars, and from time to time pipes and cigarettes, appear as an important component of our version of the classical symposium. To be included in the Cigar Society's mailing list, write to the Secretary at curtis.tuckey@logicophilosophicus.org.