---
---


Millennium Park, August 22, 2008

ASTRONOMER
JOSÉ SALGADO
SCIENCE
through
ART

Tuesday, September 17, 5:30-8:30pm
The Lounge at Iwan Ries
19 South Wabash

Cocktails at 5:30, presentation 6:00-6:30
followed by discussion and more cocktails.
$40 includes drinks, two cigars, and sandwiches.
Reservations are required.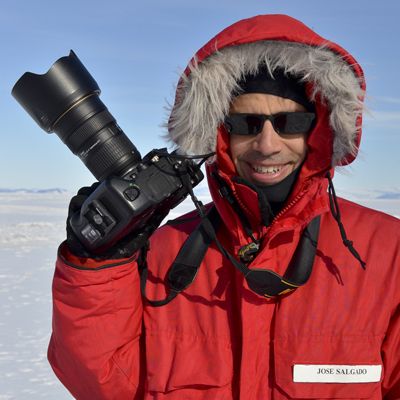 José Francisco Salgado is an astronomer at Adler Planetarium, an experimental photographer, and an Emmy-nominated visual artist who uses art as a vehicle to communicate science in nontraditional venues such as art museums and orchestra halls. As a co-founder of KV 265, a nonprofit science and arts education organization, he collaborates with symphony orchestras, composers, and chamber musicians to present films that provoke curiosity and a sense of wonder about the earth and the universe. These "Science and Symphony" films have been presented in more than 90 concerts in 14 countries with orchestras such as the Chicago Symphony Orchestra, the Chicago Sinfonietta, the Boston Pops, the San Francisco Symphony, and the Czech National Symphony Orchestra. His first two films were named by the International Astronomical Union and UNESCO as Special Projects for the International Year of Astronomy. His film "Gustav Holst's Planets" was selected for Ravinia's 2012 One Score, One Chicago initiative. Dr. Salgado has visited more than thirty scientific sites in places such as the South Pole, the Atacama desert, the South African Karoo, and a physics lab almost a mile underground in Lead, South Dakota, to capture distinctive experimental photographs.

In this presentation, Dr. Salgado will present samples of his videos, discuss the science behind them, and talk about the creative process of turning them into films.

---
About the Cigar Society of Chicago
ONE OF THE OLDEST AND greatest traditions of the city clubs of Chicago is the discussion of intellectual, social, legal, artistic, historical, scientific, musical, theatrical, and philosophical issues in the company of educated, bright, and appropriately provocative individuals, all under the beneficent influence of substantial amounts of tobacco and spirits. The Cigar Society of Chicago embraces this tradition and extends it with its Informal Smokers, University Series lectures, and Cigar Society Dinners, in which cigars, and from time to time pipes and cigarettes, appear as an important component of our version of the classical symposium. To be included in the Cigar Society's mailing list, write to the Secretary at curtis.tuckey@logicophilosophicus.org.