Augustus Higginson invites the Cigar Society to his home and studio on Stratford, near Broadway, this coming Tuesday. Gus will supply copious amounts of cold gin and snacks. For other drinks, please bring your own. Also BYO cigars.

There is no charge for this event, but reservations are required. RSVP to the Cigar Society by close of business Monday.

Street parking is tight, but valet parking is available around the corner. You may also take the CTA Red Line to Addison and stroll over. Or the Brown Line to Belmont. There is also a CTA bus stop on Stratford and Sheridan.

The Smoker's Lair

When wintry west extends his blast,
And hail and rain doth blow;
And the stormy north sends driving forth
The blinding sleet and snow:
We'll make our way to Stratford Place
And climb the mighty stair;
We'll chase the tang of scptch and smoke
To find the smoker's lair.

(with apologies to Robert Burns)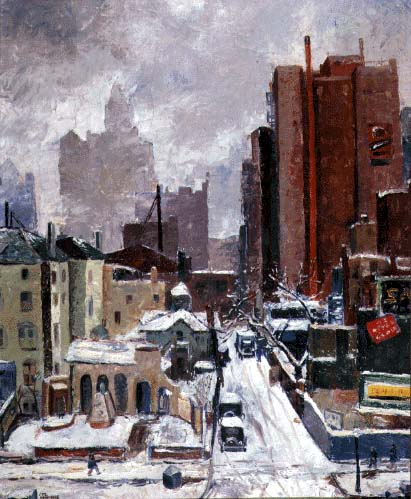 Untitled Winter Scene in Chicago, by Ceil Rosenberg
Public Works of Art Project, 1934 .