THE

PRESENTS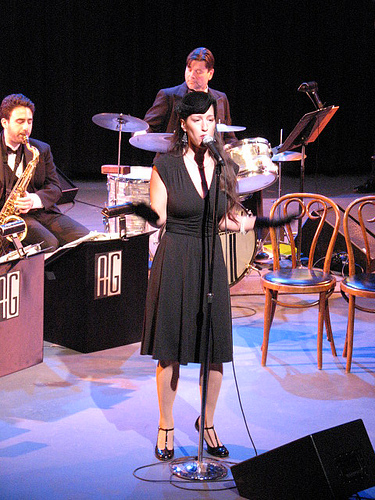 Amanda Wolff
, chanteuse of the Green Mill, the Palm Court, and the Coq d'Or, is returning to the Cigar Society on Tuesday for an evening of jazz, cocktails, and cigars. There will be a special introduction by Col. Richard Gordon. We'll have the usual premium open bar, pizza and sandwiches. Escape from the gray days outside and relax to some jazz standards and intelligent conversation over cigars and cocktails at the Iwan Ries Lounge.

$50
includes premium open bar, two cigars, and snacks.

Reservations are required.
TUESDAY, NOVEMBER 15, 5:30-8:30 PM 19 S. Wabash Av, 2d Floor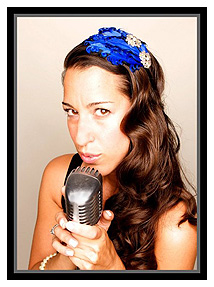 Amanda Wolff is a Chicago native who discovered her passion for music at an early age, first picking up a violin at the age of 7. She received a BA in Music from Augustana College and an MMEd from VanderCook College of Music. In 2006, Amanda joined the Alan Gresik Swing Shift Orchestra as lead female vocalist, and the following year began fronting the swing/jump blues band the Flat Cats. She is also a co-founding member of the Merry Janes, a female a cappella trio. Amanda performs regularly at the Green Mill Lounge, the Drake Hotelís Palm Court and Coq díOr, Alhambra Palace, and the Willowbrook Ballroom. She has also appeared at the Chicago Theatre, Navy Pier Ballroom, Park West, Green Dolphin, Star Plaza Theatre, and NYCís Lincoln Center. Additionally, Amanda has performed at the Taste of Chicago, Chicago Summerdance, WGN morning news, and participated in three USO tours across the Mediterranean. Along with performing, Amanda teaches choir and piano classes for Merit School of Music.

About the Cigar Society of Chicago
ONE OF THE OLDEST AND greatest traditions of the city clubs of Chicago is the discussion of intellectual, social, legal, artistic, historical, scientific, musical, theatrical, and philosophical issues in the company of educated, bright, and appropriately provocative individuals, all under the beneficent influence of substantial amounts of tobacco and spirits. The Cigar Society of Chicago embraces this tradition and extends it with its Informal Smokers, University Series lectures, and Cigar Society Dinners, in which cigars, and from time to time pipes and cigarettes, appear as an important component of our version of the classical symposium. To be included in the Cigar Society's mailing list, write to the Secretary at CigarSociety@logicophilosophicus.org.