THE

PRESENTS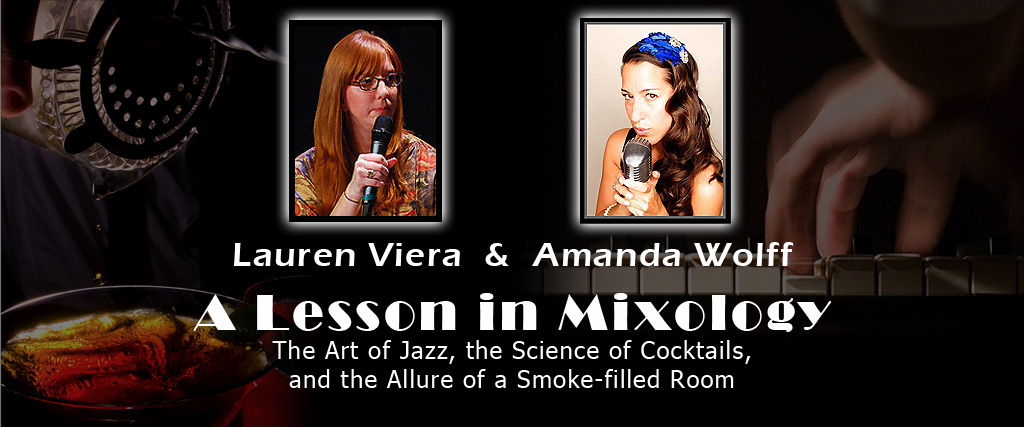 TUESDAY, APRIL 12, 5:30-8:30 PM 19 S. Wabash Av, 2d Floor
The Cigar Society is in for a treat this Tuesday, with an evening of jazz, cocktails, and cigars. We begin at 5:30pm with drinks and cigars in the Lounge. Joining us will be Amanda Wolff, chanteuse of the Green Mill, the Palm Court, and the Coq d'Or, who will ease us further into the mood by singing a short set of jazz numbers. Lauren Viera, cocktail expert for the Chicago Tribune and author of the popular Nightcap column, will talk about the culture of the cocktail, what makes the cocktail hour special, and how to achieve greatness in Mixolog

y

. With the assistance of our own Bill Daley, Lauren will show how to construct a couple of new cocktails for the spring season and in the course of the presentation pass out generous samples. Cocktails, cigars, and discussion will continue until 8:30pm. This will be a fine evening to relax to some jazz classics and to try out a few new cocktails (or sop up some old favorites) all while enjoying the comforting -- and increasingly rare -- ambience of a smoke-filled room.



Cocktails at 5:30, presentation 6:00-6:45 followed by discussion and more cocktails. $40 includes special cocktails, premium open bar, two cigars, and snacks.

Reservations are required.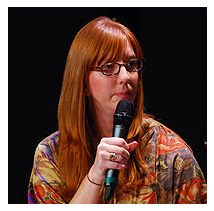 Lauren Viera is a feature reporter for the Chicago Tribune, where she writes about subjects from monster truck rallies to Matisse exhibitions. Her current focus is on Chicagoís vast and varied visual arts scene, as well as local and national trends in spirits and mixology. Her cocktail column, The Nightcap celebrates the resurgence of classic cocktails and related culture. Lauren was hired onto the Tribune's Travel desk in 2007, for which she spearheaded an online guide to Midwestern getaways while writing long-form travel features that took her from Milwaukee to Martinique. Previously, she was a Senior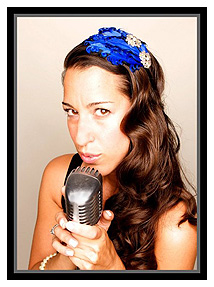 Editor at Time Out Chicago and a contributing writer to the Los Angeles Times, the Village Voice, the Cleveland Free Times. She currently also teaches in Columbia College's professional writing program, hosts a monthly cocktail club at her home bar, and plays bass-guitar on the sly. She is a graduate of Oberlin College.

Amanda Wolff is a Chicago native who discovered her passion for music at an early age, first picking up a violin at the age of 7. She received a BA in Music from Augustana College and an MMEd from VanderCook College of Music. In 2006, Amanda joined the Alan Gresik Swing Shift Orchestra as lead female vocalist, and the following year began fronting the swing/jump blues band the Flat Cats. She is also a co-founding member of the Merry Janes, a female a cappella trio. Amanda performs regularly at the Green Mill Lounge, the Drake Hotelís Palm Court and Coq díOr, Alhambra Palace, and the Willowbrook Ballroom. She has also appeared at the Chicago Theatre, Navy Pier Ballroom, Park West, Green Dolphin, Star Plaza Theatre, and NYCís Lincoln Center. Additionally, Amanda has performed at the Taste of Chicago, Chicago Summerdance, WGN morning news, and participated in three USO tours across the Mediterranean. Along with performing, Amanda teaches choir and piano classes for Merit School of Music.



C

oming up. . .



Tuesday, April 26

Michael Turner, University of Chicago, on

God, the Multiverse, and Cosmic Arrogance.

19 S. Wabash, 2d floor.

Tuesday, May 3

Dominican Cigar, Rum, and Food Fest. Sponsored by the Tourist Bureau of the Dominican Republic, Iwan Ries, and the Cigar Society.
Tuesday, May 10

Robert Wallace, Northwestern University, on Why did the Athenians Kill Socrates?


19 S. Wabash.

Tuesday, May 24

Alfred Rasho,
A B Rasho (formerly Roxie Media) , on Making Short Documentary Films.


19 S. Wabash.

Thurs, May 31

Nahid Sewell will talk about society, culture, and regime change in Iran, and read from her new book, The Ruby Tear Catcher.
About the Cigar Society of Chicago
ONE OF THE OLDEST AND greatest traditions of the city clubs of Chicago is the discussion of intellectual, social, legal, artistic, historical, scientific, musical, theatrical, and philosophical issues in the company of educated, bright, and appropriately provocative individuals, all under the beneficent influence of substantial amounts of tobacco and spirits. The Cigar Society of Chicago embraces this tradition and extends it with its Informal Smokers, University Series lectures, and Cigar Society Dinners, in which cigars, and from time to time pipes and cigarettes, appear as an important component of our version of the classical symposium. To be included in the Cigar Society's mailing list, write to the Secretary at CigarSociety@logicophilosophicus.org.