---
---
Washington's Birthday -- 22 February 2011
---
Amy Guth on
Digital News and Social Media
Tuesday, February 22 , 5:30-8:30pm
19 South Wabash, 2d floor

Cocktails at 5:30, presentation at 6:00 for thirty minutes, followed by discussion.

Amy Guth is social media editor for Chicago Tribune and co-host of "WGN Weekend with Alex and Amy" on 720 WGN. She is author of the 2006 novel "Three Fallen Women" and is included in the anthologies "What Happened to us These Last Couple of Years?" and "6S, Vol. 2." Her short fiction was named among StorySouth's notable stories and was a Million Writers Award nominee.

Guth has spoken at Columbia College Chicago, The Atlanta Journal-Constitution Decatur Book Festival, the (Downtown) Omaha Lit Fest and The Tennessee Williams/New Orleans Literary Festival and, in 2007, founded Pilcrow Lit Fest, a local small press literary festival. Guth is a co-host of the Chicago reading series Reading Under The Influence, now in its fifth year.

Previously, Guth served as digital news editor for the Tribune's books section and blog, Printers Row. She was co-host of ChicagoNow Radio on WGN, wrote the local literary blog, Chicago Subtext for the Tribune's Chicago Now blog network, where she also served as founding Life and Style community manager. Guth also served as managing editor for literary magazine The Complete Meal, co-wrote several sketch productions at Second City's training center and other improv venues, including "Anton Chekhov's Bastard Child" which was performed in Chicago from 2002-4. Guth also served as assistant fiction editor at 42 Opus, and founded and curated Chicago's Fixx Reading Series.

Find her on Twitter as @amyguth.


$40 includes drinks, two cigars, and sandwiches. Jacket and tie recommended.
Reservations are required.

Coming up

Tuesday, March 8
Allen Frantzen, Taking the Sting out of the Ring: Masculinity and White-collar boxing.
19 S. Wabash, 2d floor.

Tuesday, March 22
Augustus Higginson, The Rise of the Skyscraper in Chicago: 1955 to the present.
19 S. Wabash, 2d floor.

Tuesday, April 5
Tony Grosch, The Ideal of Brotherhood in Four Classic Chicago Novels in the '30s and '40s.
19 S. Wabash, 2d floor.

Tuesday, April 12
Lauren Viera, New Cocktails for Spring: A Lesson in Mixology.
19 S. Wabash, 2d floor.

Tuesday, April 26
Michael Turner, God, the Multiverse, and Cosmic Arrogance.
19 S. Wabash, 2d floor.

Tuesday, May 10
Robert Wallace, Why did the Athenians Kill Socrates?
19 S. Wabash, 2d floor.

Tuesday, May 24
Alfred Rasho, Making Short Documentary Films.
19 S. Wabash, 2d floor.
---
Cigar Society member David Yonan

, new artist-in-residence at Columbia College, will be giving a recital this Friday in Sherwood Recital Hall.

VIOLIN FANTASY -- A Night of Virtuoso Violin Music

with David Yonan, violin, and Irina Feoktistova, piano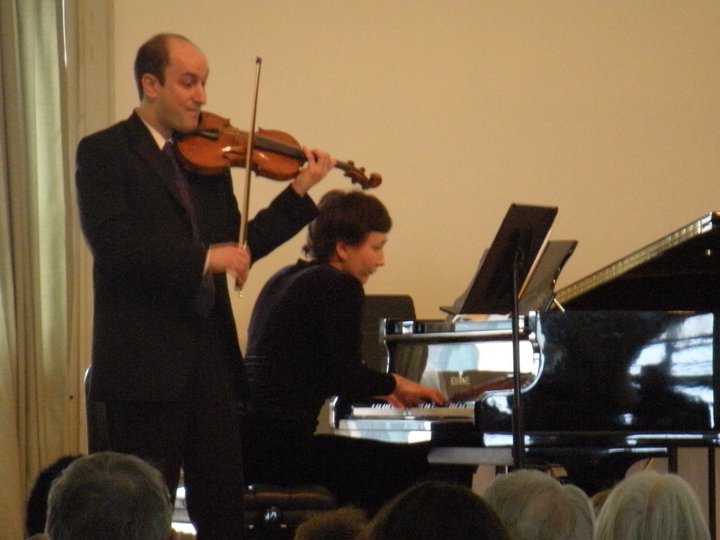 This is part of the new concert series, "Fridays at Sherwood," which includes a cocktail hour by candlelight in the lobby and ensemble rooms of the Sherwood Community Music School from 6:30-7:30, with hors d'oeuvre and live entertainment. The main concert is in Sherwood Recital Hall at 7:30pm.
The program will be a showcase of virtuoso violin fantasies by Franck, Gershwin, Kreisler, Sarasate, de Falla, Piazolla, and Paganini, and in addition, the world premiere of Ilya Levinon's "Elegy-- crossing the bridge" for violin and piano.

David will be performing on a rare old Italian Violin by Lorenzo Ventapane (Napoli 1823), on generous loan from Elizabeth Stein Company, Chicago.

---
About the Cigar Society of Chicago
ONE OF THE OLDEST AND greatest traditions of the city clubs of Chicago is the discussion of intellectual, social, legal, artistic, historical, scientific, musical, theatrical, and philosophical issues in the company of educated, bright, and appropriately provocative individuals, all under the beneficent influence of substantial amounts of tobacco and spirits. The Cigar Society of Chicago embraces this tradition and extends it with its Informal Smokers, University Series lectures, and Cigar Society Dinners, in which cigars, and from time to time pipes and cigarettes, appear as an important component of our version of the classical symposium. To be included in the Cigar Society's mailing list, write to the Secretary at CigarSociety@logicophilosophicus.org.