---
---
---
Charles Middleton on
Jobs, Higher Education, and
The Future of America
Tuesday, September 7, 5:30-8:30pm
19 South Wabash, 2d floor

Cocktails at 5:30, presentation 6:00-6:30 followed by discussion and more cocktails. $40 includes drinks, two cigars, and sandwiches.
Reservations are required.

Did you know that the United States is no longer in the top ten list of the best educated countries as measured by the number of adults 25-40 who have an associates degree or higher? Did you know that fewer than 20 years ago we were number one?

This talk will present current data about the challenges we face if we are to keep pace with the other nations who have figured out that having a highly educated population is critical for success in the international economy of the 21st century. One interpretation might be, "We are toast! Hunker down and pray for the future." Another, "We need to do something and do it now, the future is in our own hands but what's to be done given all the other American values that contribute to this circumstance?" A third might be, "Holy cow! Why aren't we told these things so that we can have an intelligent discussion about the options and what they will mean?" A final one might be, "Cassandra is at the gates. Tell her to go away!"

Lively discussion is the key to the success of the evening, so bring your preconceptions, your knowledge, and your verbal acuity and brace yourself for an truly engaged evening of debate, America style.

Charles Middleton has been a university professor or administrator for forty years. Prior to joining Roosevelt, he was vice chancellor for Academic Affairs at the University System of Maryland, provost and vice president of Academic Affairs at Bowling Green State University, and dean of the College of Arts and Sciences at the University of Colorado, Boulder.

Dr. Middleton is a Fellow of the Institute for International Education (Midwest), on the Board of Directors of the American Council on Education (ACE), and chair of the Federation of Illinois Independent Colleges and Universities.

He earned an A.B. degree with honors in history from Florida State University and both an M.A. and Ph.D. in history from Duke University. Professor Middleton's academic expertise is in modern British history from the late 18th Century to the early 19th Century. He is a Fellow of the Royal Historical Society.

Charles Middleton, President of Roosevelt University

Coming up

Tuesday, Sept 14
The Ultimate Rooftop Cigar Party at Max and Kim Kort's,
63 East Lake St.

Tuesday, Sept 21
Chris Jones, chief theater critic for the Chicago Tribune, will talk about "The Death of the Critic."
19 S. Wabash.

Tuesday, Oct 5
James Janega, Chicago Tribune, on "The Life of a War Reporter."
19 S. Wabash.

Tuesday, Oct 19
Emanuel Mayer, Classics Department, University of Chicago, on "The History of the Garden Gnome."
19 S. Wabash.
---
Letter from Urbana by Abe Kocheril

Spending time with the Cigar Society of Chicago over the past three years has been fun and worthwhile. I have enjoyed the cigars, lectures and informal discussions, and the fellowship with excellent people. Having gotten to know many of you, I am happy to write the "Letter from Urbana" to stay in touch and let you know of happenings in another part of the state.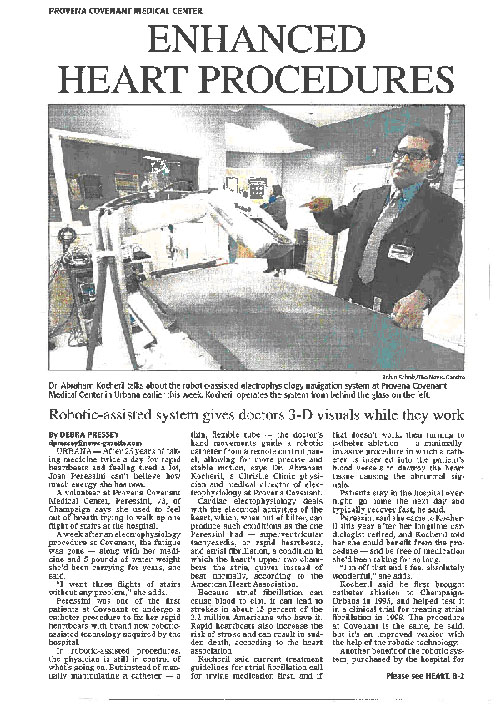 The state's financial troubles have hit the University of Illinois hard. Since it is the largest employer in Urbana-Champaign, the ripple effects have been tremendous. About 500 academic professionals have left the University in the process. Despite this, the University continues to bring education, culture, and a cosmopolitan flavor to the community.
In my line of work in cardiac electrophysiology, catheter robotics is one of the newest advances. My current hospital invested in this equipment and I have been using it to good effect for patients. The local newspaper covered this recently (right). Only two centers in Illinois have this equipment, the other being Loyola University Medical Center.
The appreciation of cigars is alive and well in Urbana, mainly among the University faculty. This group also appreciates wine and music, two things that are near and dear to my heart. You might remember a particular lecture on the subject. I have started visiting the local cigar specialty store, nothing on the scale of Iwan Ries & Co. Who would have predicted that a tightly-rolled bundle of dried and fermented leaves could become such an important part of life?
The pace of life is significantly slower here than in Chicago, which is both good and bad. Part of the good is the very manageable traffic. I do miss Chicago, but feel that I made a good decision on the whole. Of course, I plan to return to Chicago periodically, so you may see me around, with a cigar in hand.
---
About the Cigar Society of Chicago
ONE OF THE OLDEST AND greatest traditions of the city clubs of Chicago is the discussion of intellectual, social, legal, artistic, historical, scientific, musical, theatrical, and philosophical issues in the company of educated, bright, and appropriately provocative individuals, all under the beneficent influence of substantial amounts of tobacco and spirits. The Cigar Society of Chicago embraces this tradition and extends it with its Informal Smokers, University Series lectures, and Cigar Society Dinners, in which cigars, and from time to time pipes and cigarettes, appear as an important component of our version of the classical symposium. To be included in the Cigar Society's mailing list, write to the Secretary at CigarSociety@logicophilosophicus.org.