October 2006

Cigar Society Dinner, Thursday, October 12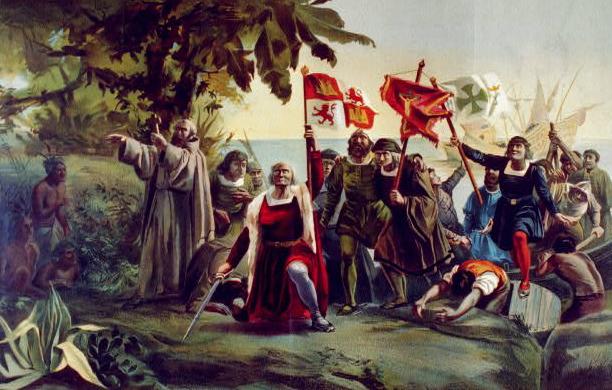 Please reserve your place now for the club's New World Cigar Dinner, which is to be held on October 12, Columbus Day (next Thursday). The theme is The New World's Contribution to Eating, Drinking, and Smoking. The dinner will feature cigar smoking during each course (BYO), multiple courses based on old- and new-world comestibles, and matching tequilas. Hors d'oeuvres at 5:30, dinner at 6:15. RSVP this week to Ms. Lewis. ($59 ) BYO cigars.
"What a blessing this smoking is! Perhaps the greatest that we owe to the discovery of America." —Sir Arthur Helps. Suggested reading for this day is Helps's Life of Columbus (1869), available free of charge from the Gutenberg Project.
Dinner Menu

Ceviche* with chiles* and tomatoes*
blanco tequila*
Grilled pear salad with candied black walnuts*
reposado tequila*
Lamb chops, potatoes*, squash*, fall vegetables
añejo tequila*
Chocolate* lava cake with toffee sauce
Don Julio 1492 tequila*
Coffee and mignardises with vanilla* and allspice*

*Native to the Americas.



David Yonan, violinist, Wednesday, October 18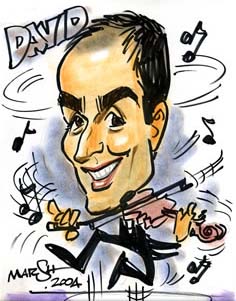 The U Club Classical Music Society hosts violinist and club member David YONAN on Wednesday, October 18, at the Tower Club. Wine and cheese at 5:00, performance at 5:15. ($12 ) Cigars to follow in the Tower Club bar at 6:15. RSVP to Ms. Lewis for the performance.

Mr. YONAN writes, "This concert will feature a variety of works, including John Adams's 'Road Movies,' Ravel's 'Tzigane,' Bach's partita for unaccompanied violin (BWV 1004), which includes the famous 'Chaconne' in D minor, and Gershwin's 'Porgy and Bess Fantasy.' I'll be accompanied by a pianist of extraordinary caliber, 21-year old Sergiy Komirenko, currently a student at Northwestern University, and I will be performing on an extraordinary violin by Giuseppe Testore, on generous loan from Machold Rare Violins, Chicago."
Fight Night, Thursday, November 2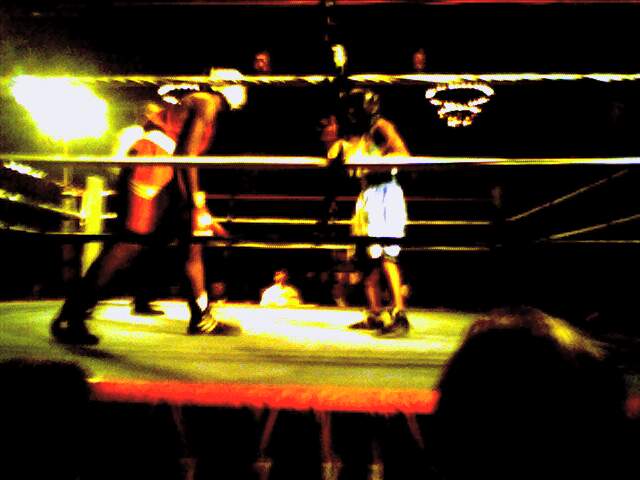 The University Club Fight Nights, this year on November 2 and 3, are the preeminent cigar and boxing events of the city. Cocktails and hors d'oeuvres at 6:00, dinner at 7:00, Golden Gloves boxing at 8:30. Black tie. ($150. )
If you are interested in sitting with the Cigar Society on Thursday, November 2, write to Curtis Tuckey.
To reserve your own table for November 2, or to reserve places for November 3, RSVP to Mr. Turner.
In our last meeting...
On one of the last days of the summer, Douglas JOHNSON, founder and former president of the Chicago Croquet Club, and currently our liaison to the Union League Club, gave basic croquet lessons amidst scotch and cigars. Mr. Johnson writes,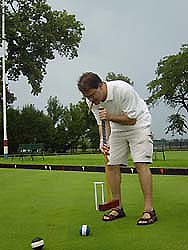 "Chicago is blessed with two tournament six-wicket croquet courts and an adjoining clubhouse, which are bordered by the 59th Street Beach on one side and Jackson Park on the other. It is a resort-like setting that cries out for Panama hats, pewter flasks, and fine cigars.
"The facility was originally built by the city for lawn bowling in the late 1920's. The Lakeside Lawn Bowling Club thrived for decades with a membership in the hundreds until it was all but shut down by Mayor Harold Washington, who regarded the club as elitist. Mayor Daley later reinstalled the fencing that surrounds the club, and in 2001, yours truly somehow convinced the city to make the courts dual use with six-wicket croquet. While the lawns and clubhouse are park property, the lawn bowling and croquet clubs control the access to the lawns in order to preserve the playing surface and secure the clubhouse.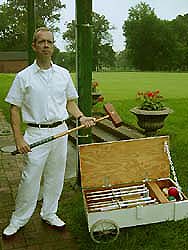 "Club members don traditional croquet whites most weekends, although a bit of color is acceptable during weeknight play. On top of everything else the lawns are lighted for night play.
"I have promised Mr. TUCKEY that if we can come up with six new members I will include a four-week strategy and shot-making class beginning in June as part of the membership. The dues are kept staggeringly low; I believe the 2007 tab will be about $150 for the year. Membership includes keys to the clubhouse, all necessary equipment, membership in the United States Croquet Association, invitations to all club social events, and so on. The 2007 memberships will be sold at a discount at our annual party next month. Details to follow." —Douglas JOHNSON
Upcoming Smoking Events...
. . . are scheduled for October 12 (the "New World" Cigar Society Dinner, Tower Club), October 24 (Talisker Scotch Tasting, Tower Club), November 2 (Fight Night, University Club), Tuesdays, November 14 and 28 and Thursday, December 14 (Informal Smokers, Tower Club).
Respectfully submitted by

Curtis Tuckey

(Secretary)